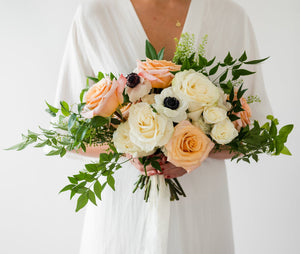 AT HOME ARRANGING KIT
Designer Test Kit (Pink Chateau)
Triple P's! Poppy, Premium, Perfect!
I thought I would be nervous to work with flowers, I didn't order from my usual go to's. However, the quality was fantastic and made my job as a designer easy. Looking forward to getting my hands on more of poppy's premium product.
Pink Chateau Designer Test Kit
Nice quality of flowers, color, and plenty of stems to create a beautiful bridal bouquet and boutineer.
The flowers were well protected and in good condition. They lasted nearly a week long. So beautiful 🤩
Floral design kit
I was super impressed with all flowers delivered! The smilax was the only thing that didn't show best quality.
The quality of most of the flowers was excellent! However some of the greenery that came with them did not survive the mail, and either withered or was too dry, even after hydrating. But overall I was impressed with the quality of the focal flowers like the roses and anemones!